Upper Key Stage 2
Welcome to the Upper Key Stage 2!
Our Upper Key Stage 2 is taught in three classes:
Year 5 Elder class
Year 5 Cedar class
Year 6 Sycamore class
Children in UKS2 are encouraged to take an active role in their own learning and to be 'lifelong learners', taking their learning beyond the school walls. Independence is highly encouraged, where children take active ownership of their next steps in learning, enabling them to be articulate about their own learning experiences and journey. Children thrive knowing that they are in control of their learning, and feel motivated to further their learning at home. Children are encouraged to be a good role model to other students through our in-depth teaching of the PSHE curriculum and develop a respect for each other's differences as they grow and mature.
In Year 6, we are committed to ensuring that all of our children reach their full potential, as we prepare them for their transition into secondary school. Throughout the year, children continue on their creative, thematic learning journey, developing a range of new skills, as well as refining and practising those acquired during the rest of Key Stage Two. We continue to promote personal attributes of self-reflection, determination, perseverance, and collaboration to ensure that our children are ready to take full advantage of the exciting opportunities and challenges presented by their future studies and life beyond school.
Our Staff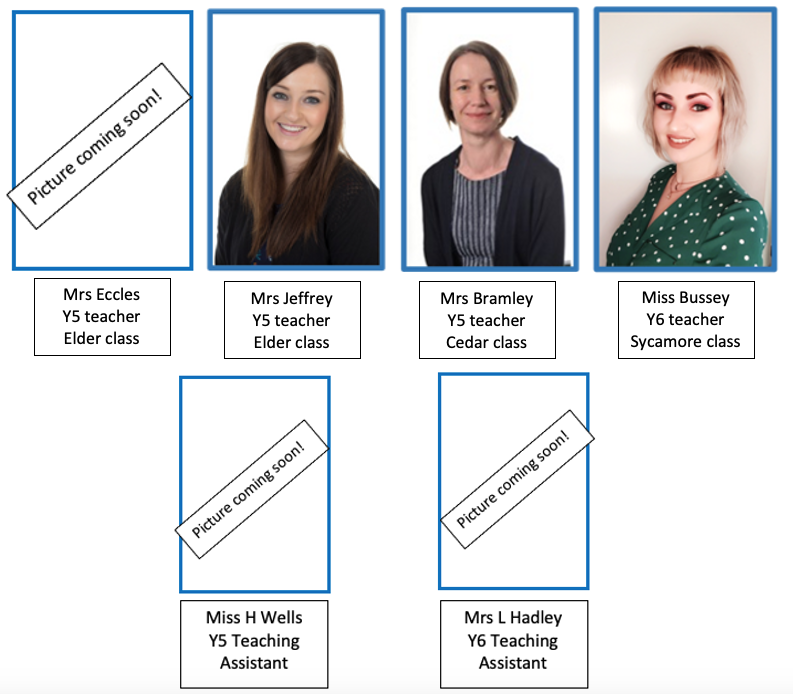 Our learning 2022- 2023
This year our Autumn term unit of work is 'Marvelous Mayans'. Please find our curriculum map below to find out more about our adventure!
UKS2 Autumn term Curriculum map
Our Spring term unit of work is 'War Child'. Please find our curriculum map below to find out more about our adventure!
UKS2 Spring term Curriculum map
Our learning Summer 2021- 2022
Our Summer term unit of work is 'The Vikings'; please find our curriculum map below to find out more about the skills and knowledge our children are learning on their Viking journey.
UKS2 Summer term Curriculum map
Useful Information
PE Days:
Year 5 will have PE on a Tuesday.
Year 6 will have PE on a Monday
We are asking all children to attend school in their PE kit. We advise that the children wear trainers. Earrings must be removed and hair tied back please.
In the Autumn and Spring term, the children in Year 5 will be going swimming on a Tuesday. All children need to have a swimming costume/trunks, a swimming hat (boys and girls) and a towel. Goggles are optional. More information will be provided by school in Autumn term.
Reading
Your child will be given a reading book to challenge their current reading level both in paperback and on Bug Club, an online reading site (please use the link below). Children can change their books regularly. Please listen to your children read as often as possible and ask them questions about what they have read. We do encourage the children to complete their own reading record when they have read independently. Your child will also be coming home with a library book, this has been chosen by them and it's for them to read for pleasure!
Reading books will be allocated on a Friday. Every child has access to Bug Club online.
Homework
Your child will be set a piece of maths homework on a Friday, to be completed by the following Thursday. Maths homework is set online.
The following sites can be accessed by the children at home. Please ask the classteacher for a password.