Reception
Welcome to Early Years!
At Richard Wakefied, all children are nurtured, loved and happy. This is evident in Reception where the well-being of the children in our care is at the heart of our teaching, enabling all children to gain a deep level of learning and secure development. Our EYFS curriculum is rooted in the key elements of learning that are essential for our children to be; confident speakers, to read, to write and to understand mathematical concepts thus ensuring all children are ready for the next stage of their learning when transitioning to the National Curriculum in Year One. Developing secure speaking and listening skills are a priority within our Early Years Curriculum, which includes the early identification of any concerns.
Through an explorative, creative and investigative approach to play and learning, our children are able to develop their language skills, self-confidence and self-esteem through high levels of involvement.
At Richard Wakefield we provide a curriculum that follows our children's interests through a combination of child led, child initiated and adult led activities. Children enjoy working with adults during this time and their learning is expertly scaffolded in order for children to be challenged appropriately to meet their full potential. Our curriculum instils a love for learning as well as a hunger to explore and investigate, take risks and problem solve within a safe, stimulating and happy learning environment both indoors and outdoors. A carefully planned curriculum for the year ensures that children can do more and remember more, as prior learning is revisited in order to ensure that learning is fully embedded.
The Early Years Foundation Stage Curriculum is made up of seven areas of learning and development. These are divided into three Prime areas and four specific areas. At Richard Wakefield, we ensure that the Prime Areas are incorporated into the children's learning throughout the year. These are;
Personal, Social and Emotional Development
Communication and Language
Physical Development
Development in the Prime Areas enables our children to go on and master the skills within the Specific Areas, providing them with the essential skills and knowledge to participate successfully in society. Personal, Social and Emotional Development underpins all that we do in Reception. We support our children by helping them to interact effectively and develop positive attitudes of themselves and others. Children at Richard Wakefield are given many opportunities to speak and listen in a range of situations, to develop their confidence and the skills of expressing themselves. Our wonderful school grounds provide our Reception children with the opportunity to access daily learning in all curriculum areas outdoors, but particularly encourage gross motor physical development.
Our Staff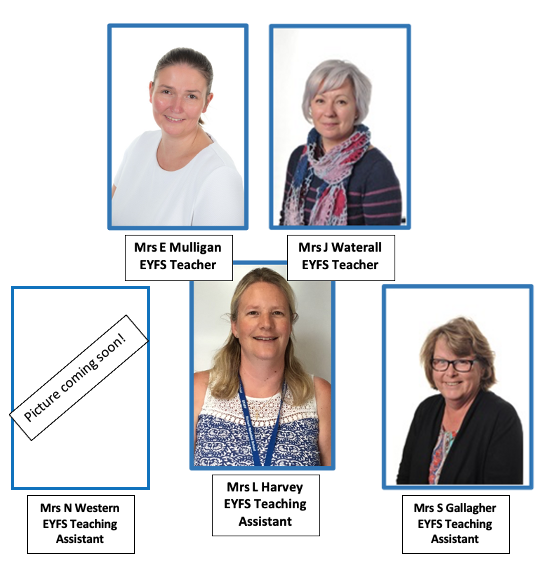 Please take a look around and explore our fantastic learning environment in EYFS.
Our learning 2022- 2023
This year our Autumn 1unit of work is 'I wonder... who I am?' Please find our curriculum map below to find out more about our adventure!
Reception Autumn 1 term Curriculum map
Our Autumn 2 unit of work is 'I wonder... how we celebrate?' Please find our curriculum map below to find out more about our adventure!
Reception Autumn 2 term Curriculum map
Our Spring 1 unit of work is 'I wonder... where we live?' Please find our curriculum map below to find out more about our adventure!
Reception Spring 1 term Curriculum map
Our learning Summer 2021- 2022
This year our Summer term topic is 'How do plants grow?' and 'Who is the Queen?' please find our curriculum map below to find out more about our royal adventure!
Reception Summer 1 term Curriculum map
Reception Summer 2 term Curriculum map
Useful Information
Your child will be engaging in learning activities both in and out of the classroom: we always use our outdoor area so please ensure that your child is prepared for the weather!
Reception will have PE on Thursday, please can you ensure they come to school in their school PE kit. Earrings must be removed and hair tied back please.
Reading
Your child will be given a reading book to support their current reading level. All children are encouraged to read their reading book with an adult every day. Please ask them questions about what they have read and record the reading in their reading diary. Children can change their books at least once a week or as often as needed. Your child will also come home with a library book. The children have choosen their own library book to encouarge a love for reading and may need support reading it.
The following sites can be accessed by the children at home. Your child's passwords will be shared with you in September.